Pondscaping: Support Wildlife & Serenity in Your Landscape
June 25, 2019 | By Roundtree Landscaping
PONDS ATTRACT WILDLIFE AND CREATE A PEACEFUL URBAN SETTING
At Roundtree Landscaping, we are big proponents of landscaping that supports urban wildlife. A great way to attract and support wildlife is through pondscaping. Not only are ponds a refuge for insects, amphibians, and birds, but they are also a relaxing getaway for you in your very own backyard.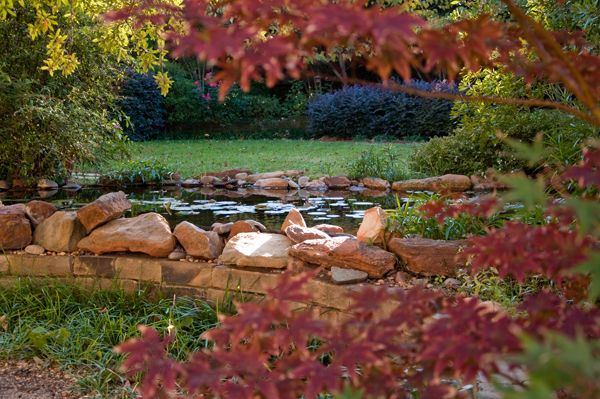 As our cities heat up amid tree canopy loss and expanding development, wildlife is pushed out of its natural habitat and are looking for a new home. When it comes to helping rebuild the urban habitat for wildlife, water is a crucial element. In times of drought, a variety of animals depend on water sources wherever they may be found, including urban gardens.
CREATE THE PERFECT POND
To encourage more frogs, toads, small mammals and birds to your pond, create a sloping transition area between the edge of the pond and the surrounding yard. You can also place logs, branches or a variety of rocks and stones at staggered depths along the edges to allow critters to enter and exit the pond easily.

Birds are attracted to moving water, so think of adding a pump to circulate water through a waterfall or stream.
Moving water helps to cut down on the amount of mosquito larvae.
Pollinators, like bees and butterflies, need a shallow location to refuel their tanks. Flat stones strategically positioned on the edge of your pond work great, or install a bird bath nearby for these creatures.

To keep your pond from becoming murky & cloudy, plant native plants in and around the pond that help to filter the water.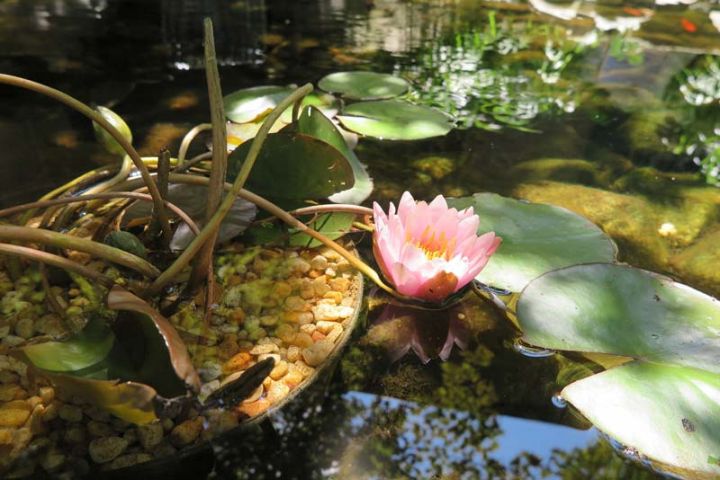 Water lilies can help filter water.
UPGRADE YOUR POND STYLE
Ponds also offer a calming oasis in your backyard for you and your family. The sound of trickling water is soothing to the senses & watching birds play & bathe will allow you to forget the stresses of the day.
Add nearby seating, such as integrated stone seating, benches or even hammocks.

Soft landscape lighting or solar lights will allow you to better enjoy your pond into the evening – but not so bright to deter wildlife.

Shade trees to make the experience more enjoyable for both viewers and wildlife.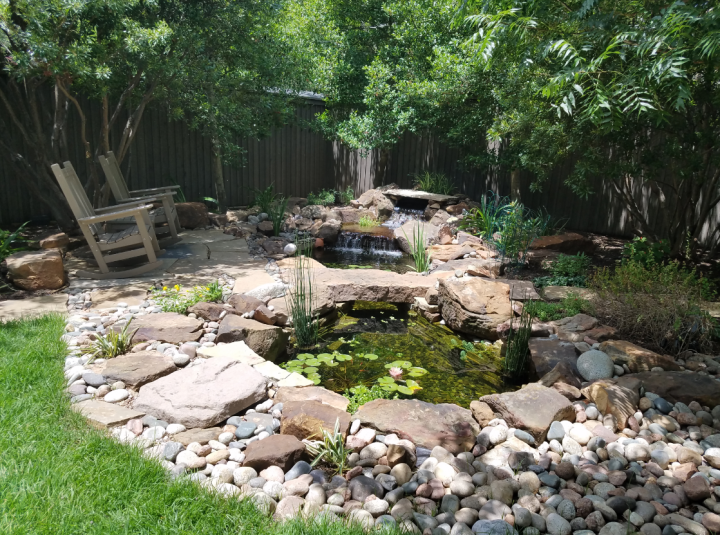 Create a serene seating area to enjoy your pond.
What to step up your pond game? Experienced pond owners add cold hardy fish in the mix. Large fish, like koi, will require large ponds and greater demands for care. Instead, choose goldfish or mosquito fish.
The possibilities for pond design are virtually endless – but the constant remains that ponds are beneficial for wildlife in the urban environment. Contact us today to help you get started on your very own peaceful backyard wildlife refuge.