Take Your Fire Pit to the Next Level
September 25, 2018 | By Roundtree Landscaping
Do you already have a fit pit, but are looking for ideas take your backyard set up to the next level? There are many options to upgrade or customize to your backyard fire pit in order to make it a unique destination for gathering.
Light it up!
An upgrade that not only makes your life easier but also safer, is a fire pit ignition system. Instead of lighting your fire pit by hand (and maybe losing a few arm hairs!), you can choose to have a simple push-button or spark ignition switch installed. This upgrade can easily be added to your existing gas-fueled fire pit, and you will dazzle your guests as you create fire at the push of a button!
Go Sculptural
To get beyond the standard fire pit look, consider either adding a fireproof sculpture element to your fire pit. Or, if you're building a new fire pit, consider breaking the mold with a fire pit that is a piece of sculpture! Fire pits don't have to be round, and they don't have to be made of stone. Fire pits can also be sculpted from metal to create unique features in your landscape.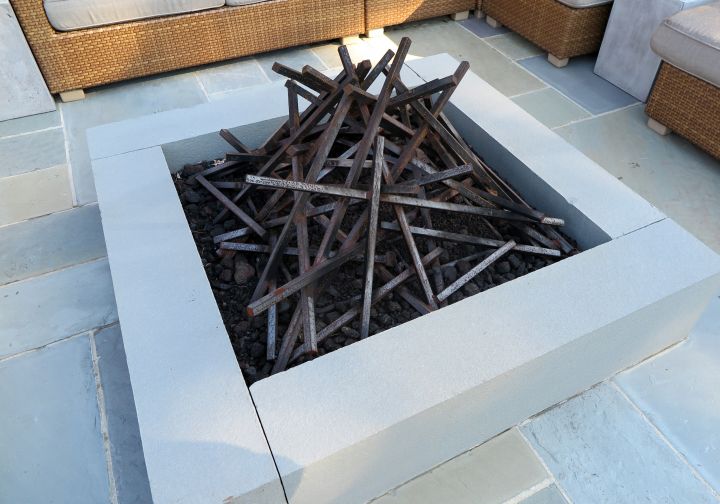 An added sculptural element creates a customized look.
Add Some Sparkle
Fire glass is all the rage right now. It is a simple and beautiful way to customize and upgrade your existing fire pit or fire feature. There are various colors, sizes and shapes to choose from that can match any color or design theme you have in mind – creating a truly customizable look. While fire glass adds a lovely color even when not lit, the added flames create a striking glow, flicker, and reflection in your fire.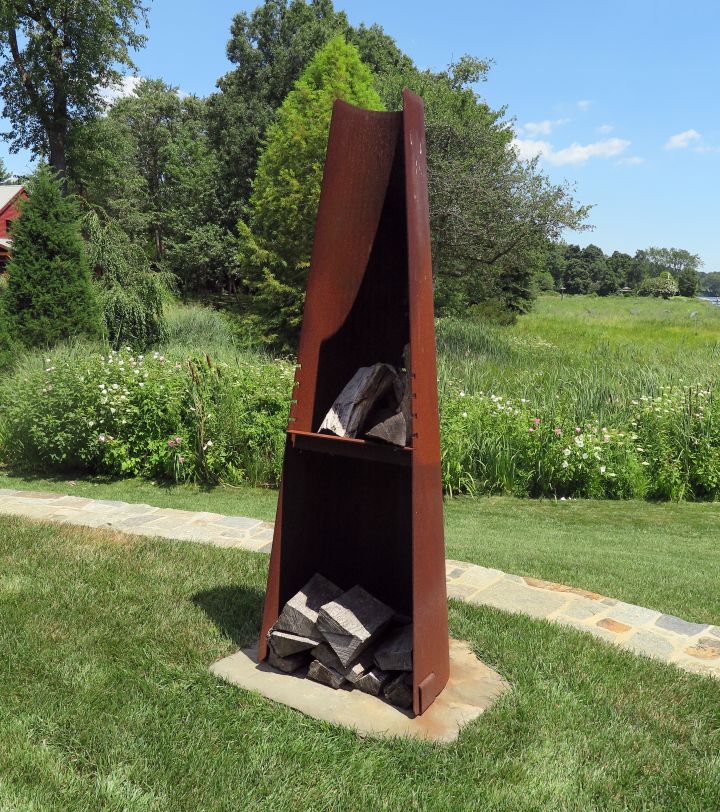 This metal fire pit, or outdoor fire place, creates a dramatic focal point in the landscape, as well as a soothing place to relax outdoors.
Party Time
Speaking of a party – what's a party without food and drinks? Your fire pit can easily be upgraded to accommodate cooking outdoors. Install a fire table (with your customizable fire glass) or upgrade your existing fire pit by adding a counter edge that serves as a table surface. Table surfaces can be made of granite, marble, or slate and allow your guests a place to rest their food, or even use the fire to roast a hot dog. Incorporate some beverage coolers into your built-in seating & you may never live inside again!
Feature Furniture
Now that you have a gorgeous, custom fire pit to look at, why not upgrade the furniture around your feature? In order to create a focal entertaining point in your yard, add some comfortable seating to entice your visitor to stay awhile. Built in bench seating with comfortable cushions, hammocks, or even chaise lounge chairs create a unique outdoor living space.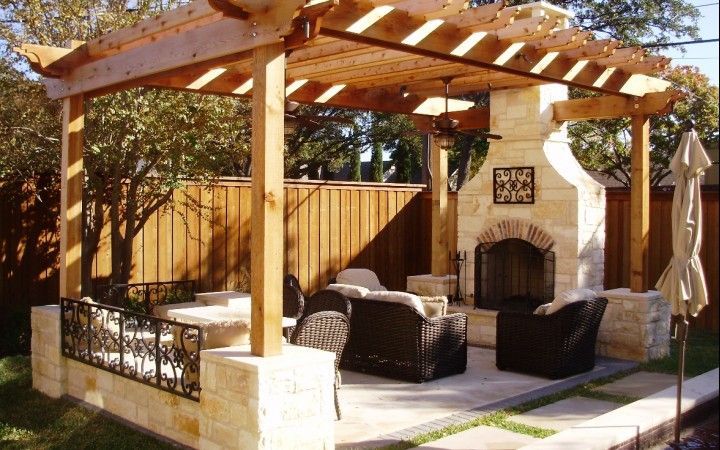 Comfortable furniture surrounds this outdoor fireplace.
The possibilities are endless when it comes to upgrading your fire pit. Call us today and let our designers come up with a custom plan to elevate your backyard fire pit to the next level.