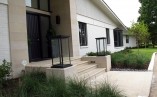 We transformed a nondescript landscape into a stunning contemporary urban oasis! Clean lines and neutral colors were key to the success of this new installation. A large pool and jacuzzi are framed by modern and clean plantings. Ornamental grasses, strategically placed gravel and unique lighting complement the home's unique architecture and style.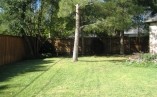 In this backyard renovation, we started completely from scratch! The new landscape includes a pool, patio, pergola and outdoor kitchen!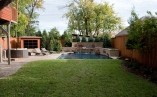 This backyard and pool renovation created a space to enjoy both stay and play for our client. A stunning pool design with fountains is the focal point.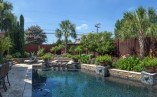 Looking for a fun tropical retreat in the middle of the city? Look no further! We created a fun tropical feel in this landscape. Palm trees, funky decor and a stunning pool perfect for entertaining! The plants give a lush feel, but are all low-maintenance.