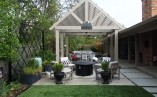 Our client's goal for their narrow yard was to create an outdoor living space for relaxing and dining, along with a hot tub area for the kids & dogs to play in. Narrow spaces such as these can be tricky, but we accepted their challenge! We first enhanced the area by removing the fence to the alley in order to enlarge the space. We felt this produced an outcome that is relaxing, inviting and fun. The custom designed pergola - designed by Sardone Construction - makes a bold style statement and provides a shade solution. While each space leads you to the next, each area has its own style and function, while working together beautifully. The spa & private deck beckons for relaxation at the end of a long day, while the synthetic lawn allows the perfect space for kids & pets to play.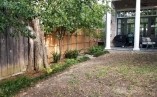 This backyard, with its already existing patio, had become tired, dreary, and void of grass. Not an inspiring place to spend time. We enhanced and refreshed plantings along the edges of the yard with added shrubs and fresh mulch, along with adding a new raised St. Augustine turf portion. Lastly, we incorporated a potted Japanese Maple as a focal point. This landscape is now ready to enjoy in the summer!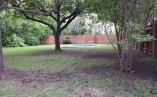 When the large, established trees in this backyard landscape began to shade and weaken the once lush lawn, the homeowner knew it was time for a change. We strategically replaced the sun-loving grass with landscape beds that followed the patterns of shade and then filled them with low maintenance shade-loving shrubs, perennials and groundcovers. We also created walk-able pathways with natural stone pavers and gave this busy family a serene stone patio on which to relax. The lovely pergola will offer even more shade in the summer months. This landscape filled with tough shade-loving plants creates a natural woodland feel in this once barren backyard. Growing healthy grass under large shade trees is never easy. However, we have many wonderful and beautiful solutions when it's time for your lawn to be replaced.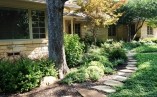 In this landscape, we wanted to create a lush, yet very natural and less formal feel. The landscape needed to be both low-maintenance and water-wise. We blended lush groundcover plantings in shaded areas with heat hardy and water-wise perennials and roses. Extensive stone pathways, patios and a stained concrete driveway make this landscape standout. We also created a series of streams and fountains to create a relaxing backyard retreat.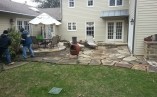 While there was a pre-existing patio in this backyard, it wasn't serving the needs of this active Dallas family. They wanted a WOW space to entertain family and friends and relax in through summer. We decided to remove the existing patio and completely remodel the entire space. The new entertaining area includes a sunken stone patio to dine and lounge in surrounded by a stone walkway that adds depth and character. The natural stone patio was extended to surround the built in grill. To provide shade and complete the look of the space we added a custom built pergola. Custom shade cloth or natural vines can be added to create more shade and individual character. This backyard is summer ready! Design by Laura Tyson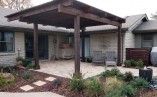 This home's backyard patio needed a facelift. We designed and built the perfect contemporary yet rustic pergola and stone patio to extend the home's living space.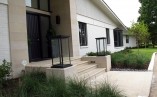 We transformed a nondescript landscape into a stunning contemporary urban oasis! Clean lines and neutral colors were key to the success of this new installation. A large pool and jacuzzi are framed by modern and clean plantings. Ornamental grasses, strategically placed gravel and unique lighting complement the home's unique architecture and style.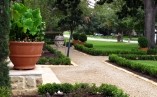 This University Park home has gotten a rustic and classic facelift with new formal borders and stone pathways that accent the front yard. The backyard is now a beautiful and low-maintenance retreat, complete with a new pool, fountain features, and artificial turf. The faux turf will keep the pool area clean when the kids and dogs want to play!