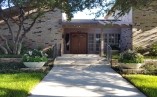 Conveniently located just minutes from Central Expressway and LBJ Freeway, Pagewood II is an appealing, low-traffic, residential neighborhood. The community of 178 townhomes was originally established in 1973. Major improvements planned for 2017 include the re-asphalting of alleys & carports and the first phase of re-landscaping as part of the master landscape plan. Here at Roundtree, we're focused on the landscaping renovations, starting with the Clubhouse entrance. This shady environment needed to be updated where lawn was no longer growing successfully. As trees mature and cast more shade, lawns will always suffer. Once there is a predominance of shade, it's always best to consider renovating the area with a mixture of plants that will better tolerate shade. We also wanted to give the foundation a fresh look by extending the beds and removing dated boxed hedges to establish more Texas Tough shade plants, such as oakleaf hydrangea. Their beautiful blooms are showy in shade. We also chose Indigofera, or Chinese Indigo, to plant en masse for a soft filler. This is a tough little plant that produces masses of pink blooms, and will tolerate low-maintenance shady areas. Ornamental grasses that tolerate some shade were also planted. Containers were updated to freshen the area with seasonal color. The entry to the clubhouse now looks much more inviting and contemporary - just the upgrade this community deserves!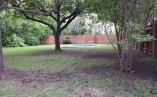 When the large, established trees in this backyard landscape began to shade and weaken the once lush lawn, the homeowner knew it was time for a change. We strategically replaced the sun-loving grass with landscape beds that followed the patterns of shade and then filled them with low maintenance shade-loving shrubs, perennials and groundcovers. We also created walk-able pathways with natural stone pavers and gave this busy family a serene stone patio on which to relax. The lovely pergola will offer even more shade in the summer months. This landscape filled with tough shade-loving plants creates a natural woodland feel in this once barren backyard. Growing healthy grass under large shade trees is never easy. However, we have many wonderful and beautiful solutions when it's time for your lawn to be replaced.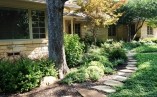 In this landscape, we wanted to create a lush, yet very natural and less formal feel. The landscape needed to be both low-maintenance and water-wise. We blended lush groundcover plantings in shaded areas with heat hardy and water-wise perennials and roses. Extensive stone pathways, patios and a stained concrete driveway make this landscape standout. We also created a series of streams and fountains to create a relaxing backyard retreat.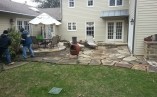 While there was a pre-existing patio in this backyard, it wasn't serving the needs of this active Dallas family. They wanted a WOW space to entertain family and friends and relax in through summer. We decided to remove the existing patio and completely remodel the entire space. The new entertaining area includes a sunken stone patio to dine and lounge in surrounded by a stone walkway that adds depth and character. The natural stone patio was extended to surround the built in grill. To provide shade and complete the look of the space we added a custom built pergola. Custom shade cloth or natural vines can be added to create more shade and individual character. This backyard is summer ready! Design by Laura Tyson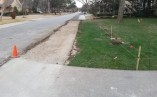 Streetside parking can often take it's toll on your front yard or easement. When parking for guests is limited on narrow streets, sometimes you need to make it easier and more attractive for visitors to park. Cars parking on the street in front of this home had worn down the front yard lawn. We wanted to create a hardscape space adjacent to the street where cars could safely park without damaging the lawn. We also needed to create a safer area for the kids to play in the front yard. We redesigned a simple parkway to be both beautiful and match the look of the home. With custom brick paving and a traditional brick and wood fence that offers a picturesque country feel, we turned lackluster into lovely. See the before, during and after pictures below! Design by Laura Tyson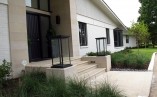 We transformed a nondescript landscape into a stunning contemporary urban oasis! Clean lines and neutral colors were key to the success of this new installation. A large pool and jacuzzi are framed by modern and clean plantings. Ornamental grasses, strategically placed gravel and unique lighting complement the home's unique architecture and style.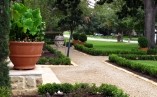 This University Park home has gotten a rustic and classic facelift with new formal borders and stone pathways that accent the front yard. The backyard is now a beautiful and low-maintenance retreat, complete with a new pool, fountain features, and artificial turf. The faux turf will keep the pool area clean when the kids and dogs want to play!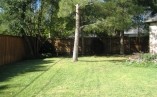 In this backyard renovation, we started completely from scratch! The new landscape includes a pool, patio, pergola and outdoor kitchen!