Kitchens & Grills: Plan Now!
August 23, 2016 | By Roundtree Landscaping
Dreaming of grilling gourmet pizzas or the perfect steak on your outdoor grill next spring? Now is the time to plan, so you can make your outdoor entertaining dreams a reality. When you install in fall, you'll be able to enjoy your outdoor kitchen during mild winter weather, and it wil be ready to go the second nice spring weather returns.
How to plan for the perfect outdoor cooking space
While your budget might dictate the amount of space and appliances allowed for your outdoor kitchen or grill, there is no reason you can't get exactly what you want out of your plan. Be thinking of what you enjoy cooking most, how much prep space you envision, how much storage you'll need, and the average number of people you'd like to entertain in the space. You might be amazed at what can fit into even a small patio area if the space is well-designed.
Prep, cook, serve & clean...in style.
Just like your indoor kitchen, you'll want your outdoor cook space to be planned efficiently. Plus, a well planned space will reduce your trips indoors.
Counter space allows you to do more outside next to the grill. A built in grill can easily feature a flat area around it to prep vegetables and keep what you need at close hand.
Grills are a necessity outdoors. Multiple types can be installed in one space to grill meat, vegetables and even pizzas to ensure a perfectly cooked meal every time. Plus, with different grills, you'll be able to cook and serve various foods at the same time, instead of in phases.
An undercounter cooler or refrigerator will keep side dishes, snacks and cheeses from spoiling in our Texas heat before they reach your guests. Plus, you'll want to keep white wine, beer and sodas cold. Consider this an item to budget into your plan.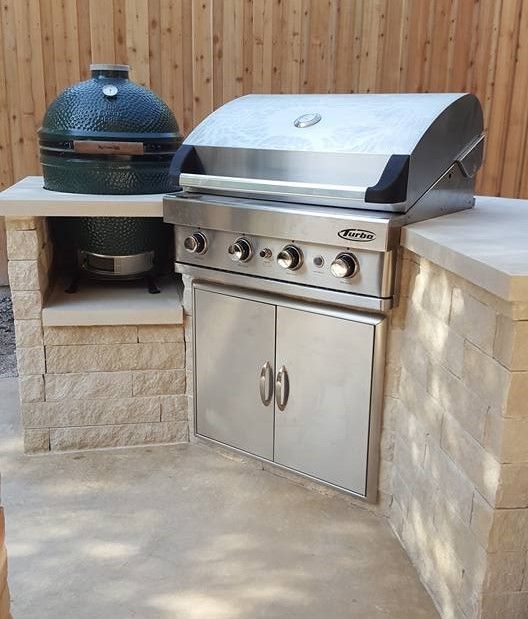 A ceramic egg-style grill is used alongside a standard grill so multiple items can be cooked at once. There is just enough prep space to keep utensils and prep items handy.
Serving and eating in close quarters. Even if you don't have a lot of space, a counter area that holds your appliances can be surrounded with A large space outdoors for your kitchen or grill area that allows for a counter and tall stools where the family or guests can sit and eat. You'll keep guests close, be able to serve with ease and create a fun, cozy outdoor atmosphere.
Clean up time. It really isn't necessary to have a sink outdoors, although those who have them, never complain! Just bring a tub to put items such as tongs and spatulas in for cleanup indoors. Or, we can work an outdoor sink into your plan.
Style counts! Is your home modern, traditional, contemporary, bungalow or mediterranean style? We help choose stone, brick and other materials that will match your home's architecture.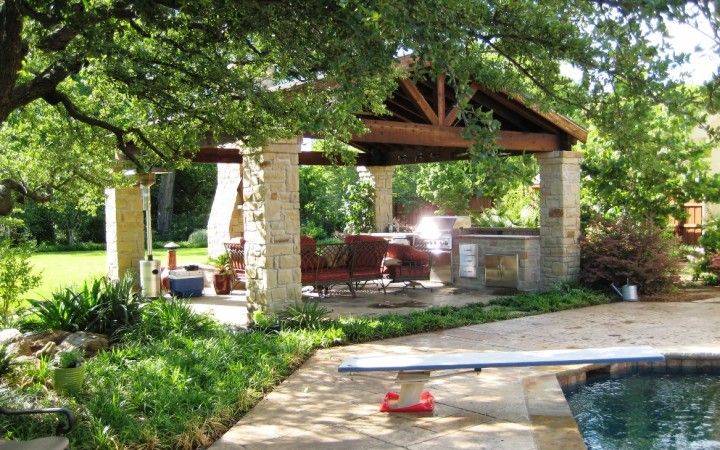 No matter if your outdoor kitchen is grand or simple, cooking outdoors is always a great idea!
Shade goes a long way here in Texas. But the best place for your outdoor kitchen and eating area might not be adjacent to house, or under an existing covering. You may want to build it further out into the yard or on the other side of your pool. But that doesn't mean you have to sweat in the sun. If you plan well, you can create the perfect shade pergola our outbuilding to house your outdoor kitchen. Creating these kinds of outdoor rooms not only helps you expand your living space, but it's a big boost in property appeal when it's time to sell.
Why wait until spring, when you can get grilling this fall and winter? We're ready to design your outdoor dream kitchen no matter the size. Find more inspiration at our Outdoor Kitchen & Grill Inspirations Idea page on Houzz.