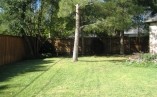 In this backyard renovation, we started completely from scratch! The new landscape includes a pool, patio, pergola and outdoor kitchen!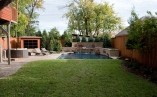 This backyard and pool renovation created a space to enjoy both stay and play for our client. A stunning pool design with fountains is the focal point.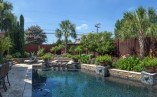 Looking for a fun tropical retreat in the middle of the city? Look no further! We created a fun tropical feel in this landscape. Palm trees, funky decor and a stunning pool perfect for entertaining! The plants give a lush feel, but are all low-maintenance.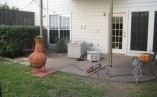 The backyard space of this townhouse had a lot of potential, but the owners just weren't sure what to do with it! We transformed the space from neglected to a natural retreat. The owners are gardeners and so requested we leave open space for them to "plant and putter".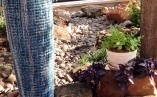 Our homeowners at this property wanted a cozy, low-maintenance and dog-friendly backyard with a stone patio...plus, some friendly front yard entertaining! We created a lush lawn area for the pup, easy-care color plantings and low-maintenance perennial plantings complete with a bubbler fountain and river rock "stream". In the front yard, we build a stone patio to enhance curb appeal and provide a place to relax with and entertain the neighbors!