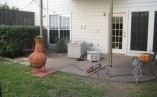 The backyard space of this townhouse had a lot of potential, but the owners just weren't sure what to do with it! We transformed the space from neglected to a natural retreat. The owners are gardeners and so requested we leave open space for them to "plant and putter".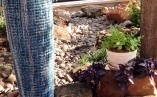 Our homeowners at this property wanted a cozy, low-maintenance and dog-friendly backyard with a stone patio...plus, some friendly front yard entertaining! We created a lush lawn area for the pup, easy-care color plantings and low-maintenance perennial plantings complete with a bubbler fountain and river rock "stream". In the front yard, we build a stone patio to enhance curb appeal and provide a place to relax with and entertain the neighbors!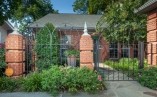 This traditional style property needed a landscape upgrade, but homeowners didn't want plantings that would be too high maintenance.We renovated the space to include an expansive stone patio complete with a stone bubbler fountain. A small area of traditional lawn area was created but is surrounded by low-maintenance plantings and river rock "streams". Roses and grasses flank the backyard and seasonal color is pocketed through the landscape.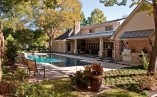 Love to take the entertaining outdoors? We can extend your living space with outdoor rooms that include kitchens and grills.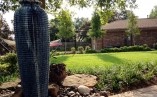 Looking to add and extra dose of relaxation to your landscape? Fountains not only add interesting focal points to the landscape, but also introduce the element of water and its relaxing sounds. Here are a few examples of feature fountains we can incorporate into your landscape design.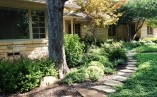 Hardscape is an important part of any good landscape design. Stone work can be used to create focal points, accents, pathways, patios and much more. Here are a few examples of how we like to use stone work in our landacape designs to create a natural feel.