Portfolio
Looking for some examples of our landscaping work? Take a moment to look through our portfolio to view photos of some of the landscapes we've designed over the years. You can scroll through the list to select a phot gallery. Projects are also grouped by categories, such as such as patios, pergolas and pools so you can easily find what you're looking for.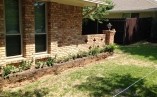 Sometimes your front yard needs a facelift. Wate-rwise plantings and a few pops of color from pottery and furniture transformed this front yard and improved curb appeal.
---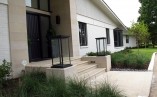 We transformed a nondescript landscape into a stunning contemporary urban oasis! Clean lines and neutral colors were key to the success of this new installation. A large pool and jacuzzi are framed by modern and clean plantings. Ornamental grasses, strategically placed gravel and unique lighting complement the home's unique architecture and style.
---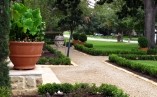 This University Park home has gotten a rustic and classic facelift with new formal borders and stone pathways that accent the front yard. The backyard is now a beautiful and low-maintenance retreat, complete with a new pool, fountain features, and artificial turf. The faux turf will keep the pool area clean when the kids and dogs want to play!
---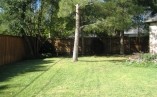 In this backyard renovation, we started completely from scratch! The new landscape includes a pool, patio, pergola and outdoor kitchen!
---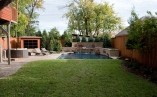 This backyard and pool renovation created a space to enjoy both stay and play for our client. A stunning pool design with fountains is the focal point.
---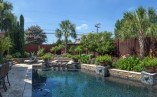 Looking for a fun tropical retreat in the middle of the city? Look no further! We created a fun tropical feel in this landscape. Palm trees, funky decor and a stunning pool perfect for entertaining! The plants give a lush feel, but are all low-maintenance.
---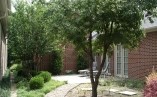 Not sure what to do with your patio? Take at look at this award winning patio transformation we created!
---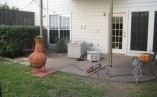 The backyard space of this townhouse had a lot of potential, but the owners just weren't sure what to do with it! We transformed the space from neglected to a natural retreat. The owners are gardeners and so requested we leave open space for them to "plant and putter".
---