Spring has Sprung! Flowers to plant now in your garden.
March 7, 2018 | By Roundtree Landscaping
While we haven't hit the first official day of spring just yet, nature is marching forward. Flowering trees have started blooming as have the daffodils. It is the perfect time to add some annual spring flowers to brighten up your landscape beds. Plus, the pollinators will thank you for refreshing their food source.
Here are our top picks for planting right now:
Petunia: Nothing is more radiant and ushers in spring quite like a petunia. Their large flowers come in a plethora of colors and plant sizes. If you want a spreading type for hanging baskets or to cover a bunch of ground, try 'Supertunia Royal Velvet' or 'Supertunia Bubblegum'. More compact varieties, like the 'Pretty Flora' series work well for pots and smaller landscapes.
Osteospermum: African Daisy is always a favorite in the garden. In recent years, there have been advances in breeding and new introductions that are double flowered, spoon-shaped, and more heat tolerant have been released. For depth and texture, use '4D Purple', while for a more heat tolerant and show-stopping yellow flower, plant 'Voltage Yellow'.
Pelargoniums: Geraniums have been planted in your mother's and grandmother's garden, and rightfully so, because they hold up well and provide reliable color. Newer versions of this classic plant like 'Caliente Fire' and 'Calliope Medium Burgundy' give a deeper, more refined color palette of options. Deadheading will help increase blooming.


Osteospermum, Lobelia, and Gerbera
Petchoa: Petchoa is a cross between petunia and calibrachoa (Million Bells). These fun plants have an interesting color palette, with varieties like 'SuperCal Terracotta', 'SuperCal Premium French Vanilla' and 'SuperCal Artist Rose'. With these plants you get the best of both worlds: a more vigorous, and easier to care for calibrachoa, (thanks to the petunia breeding) with a lighter, more delicate looking flower.
Gerbera Daisy: You will be hard-pressed to find a gardener who doesn't love a cheery Gerbera daisy. They used to just come as potted plants to be admired for a bit of time indoors, but recent strides in breeding have produced excellent outdoor bedding plants. The 'Jaguar' series has lovely colors to choose from with flowers held atop sturdy stems.
Lobelia: Lobelia is a fabulous groundcover and container plant that fits in perfectly with a cool color scheme. 'Techno Heat Violet' and 'Techno Heat Dark Blue' will bloom their heads off in part shade to full sun—and provide colors to the garden you won't regret.
Vegetables: One can't forget their edible landscape in the spring! Right now is the perfect time to plant beans, peas, potatoes, radishes, and tomatoes. These crops are pretty easy for the novice and are fun to plant with children.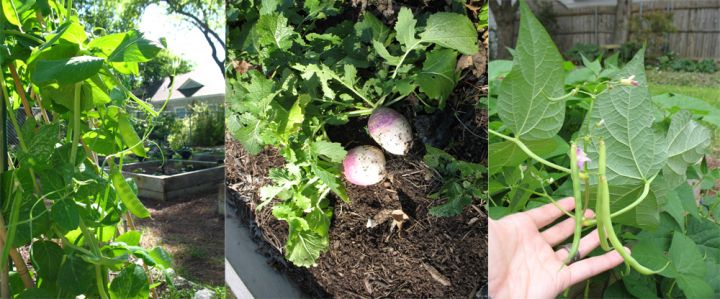 Peas, Radishes, and Beans
While these plants aren't made to last forever in our Texas weather, they certainly will put on a show for the next couple of months before the heat sets in. Of course, after planting, fertilizing will help blooms continue to set; while a nice, fresh layer of mulch completes the look.
If you are thinking of adding some new annual color this spring, contact us for an artistic and colorful plan to fit your style.