Elevate Your Landscape Style with Raised Beds
May 9, 2019 | By Roundtree Landscaping
The first thing you probably think of when we mention raised beds is vegetable gardening. While raised beds are great for growing veggies in North Texas, they can also be a perfect ornamental landscaping solution. Raised beds help to add depth and dimension to your landscape and can even be designed into patios, decks and balconies.
Soil Solution
Raised planting beds work well in Texas because they help to bypass one of the most difficult factors we have to work with – heavy compacted clay soil. When creating above-ground raised beds, we are able to add quality soil with good drainage. Because the beds are above grade, excess moisture is able to move through the soil easier. This gives us the ability to plant a wider variety of plant material. Acid-loving plants like azaleas and gardenias, for example, will benefit from nutrient rich compost that drains well. Same goes for roses.
Ergonomic
Another added bonus of raised beds is easier maintenance. Instead of having to get on your knees to prune, weed, and dig, raised beds bring the plants closer to you. Changing out annual plants from season to season becomes not nearly as back-breaking.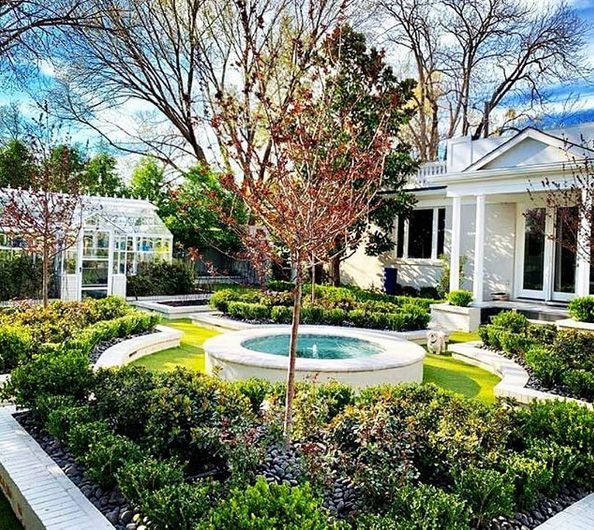 Elevated Style
We love the classic, high-end aesthetic quality-built raised beds can bring to a landscape. Raised beds built with stone or brick create a clean, crisp, formal sight line. In the photo example above, we used white block to construct a stunning symmetrical garden that lends a sophisticated air to the landscape –something one might find in an estate garden in England.
The design brings the viewer directly to the center of the garden, around a water feature focal point. Formally trained boxwood hedges keep in line with the clean aesthetic.
Small Space Solution
In smaller spaces, raised beds help to create added depth and dimension without taking up a big footprint -especially on decks and patios. A raised bed lining a patio becomes an integral part of the hardscape and design, creating a division between outdoor rooms, while doing double duty as a planting space.
Easy Harvest
When edible plants are incorporated into raised beds, they are known as potager gardens. These types of gardens were invented in France as a way to combine food and ornamental crops in a visually appealing way. We do encourage adding food crops and herbs into your ornamental plantings - especially fragrant plants - to create a truly immersive experience.
If you prefer a cleaner, more classic look to your landscape, consider adding raised beds. We are ready to help you with the right design and plants to get the project started.