Think Your Shaded Garden is Boring? Think Again!
March 28, 2017 | By Roundtree Landscaping
We always want what we can't have. Those of us with sun gardens dream of a patch of shade to grow hydrangeas, hostas and lush ferns. But, if you have shade, we understand your desire for vibrant blooms you think you can't have. We encourage you to embrace your shade gardens and liven them up with these combinations for containers or planted directly into the gardens. When the rest of us are baking in the sun, you'll be cool and relaxed in your shaded oasis.
Shade Tip: Gorgeous Plants for Dry Shade gardens.
Bright blooms & unique foliage
Though shade containers won't have all the flowering options that you find in sun, that doesn't mean they should be boring. Take advantage of height variation, spilling effects and texture to contribute interest. In place of bright petunias, newer primrose cultivars have rich saturated colors that look great in the cool season. Bring glowing white blooms to shady areas with Camellia 'White Dove' or perhaps a Hydrangea paniculata 'Bobo'. Plants famous for their foliage color include varieties of Coral Bells in shades of peach, chartreuse and even black. Add mondo grass at the base of the plant in containers for a subtle, low-growing texture contrast.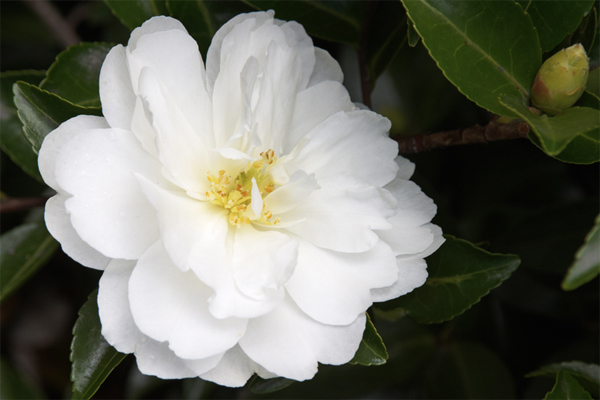 Camellia 'White Dove' from Monrovia. Photo by Geoff Bryant
Going solo
While combinations can enhance each of these plants, you can also create a less cluttered look by enjoying single specimens, particularly if you have groups of interesting pots. It's easy to get excited by flowers, but it's a common mistake to combine so many specimens that our combinations lack focus. Simple green options provide structure to our containers, not to mention year round interest. Succulents like the furry Panda Plant kalanchoe are terrific used alone as are basic shrubs like the vertical Green Tower® Boxwood or the mounding, compact Micron® Dwarf Yaupon Holly. In shade, try variegated Carex oshimensis 'Evergold,' Mahonia 'Soft Caress' or robust 'Macho' ferns for wonderful form and texture all on their own.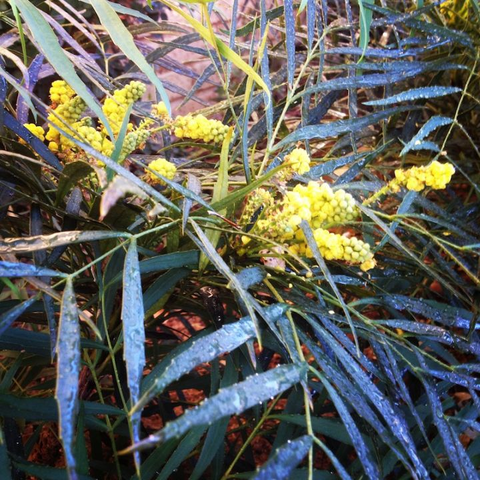 Mahonia 'Soft Caress' is a Texas tough shade shrub that adds interest year-round in the landscape.
Shade gardens take specific care to keep them healthy. Watering in the morning will reduce wet foliage over night that can attract pests and fungal disease. Fertilizing shrubs in spring and feeding annual color throughout the season will keep blooming plants blooming and foliage plants lush.