Trend Alert: These Aren't Your Grandmother's Petunias!
March 20, 2017 | By Roundtree Landscaping
The wild weather fluctuations this winter have teased us with warm spring-like days that get us in the mood to spruce up containers. Need inspiration? We've rounded up some design ideas and plant suggestions to get you excited.
Old feels new again
Petunias are an old fashioned favorite that many of us associate with our grandmothers. Updated petunia cultivars have large lush blooms in unusual colors with beautiful veining in the petals. Petunia Crazytunia Sparky is a day-glo mixture of hot pink and fluorescent yellow streaks that look anything but reserved. For a bright punch of spring color next to a simple green boxwood, allow them to spill out of the pot alongside a small leafed thyme. Crazytunia 'Good Night Kisses' has a deep wine colored throat and a contrasting yellow green edge, which would pair fabulously with silver foliaged artemisia and chartreuse creeping Jenny.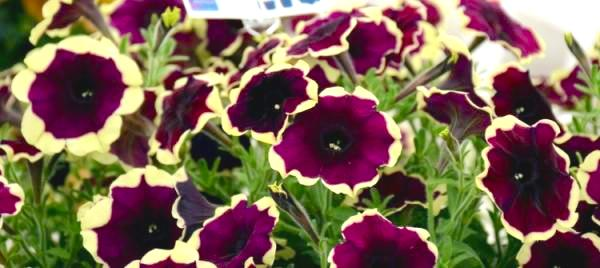 Petunia Crazytunia® 'Goodnight Kisses' by grower Westhoff Vertriebsgesellschaft.
White looks just right
If you prefer a more subtle color palette, Petunia 'Cloud Nine' is a creamy white with subtle pinstripes of purple. Combine with feathery bronze fennel and a 'Blue Spruce' sedum for a sophisticated look. Gorgeous whites are trending right now. These quieter tones brighten up simple green plantings and look great with the narrow, yellow edged leaves of Euphorbia 'Ascot Rainbow.' Experiment with White Lagoon Nemesia fruticans or the brilliant white of Soprano White Osteospermum hybrid with its dazzling purple button eyes.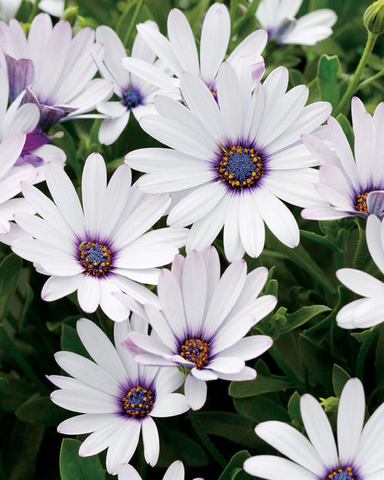 Soprano® White Osteospermum from Proven Winners
Plant petunias and other spring color in both pots and in the garden. Keep them looking their best for spring entertaining by adding your containers to a drip line and feeding through the season with a quality fertilizer. Are you on our maintenance plan? We'll be doing the work for you through spring so you can sit back, relax and enjoy this wonderful weather. Are too many options feeling a little overwhelming? We're happy to lend our expertise in bringing you fresh ideas and styles for a fantastic spring rejuvenation.