What is a Landscape Architect?
January 27, 2015 | By webadmin
This is a question we get often. While many are familiar with the title "Landscape Architect", what they actually do can be quite the mystery. Have you ever found yourself in need of a completely new landscape design? Perhaps you're looking to renovate your irrigation system or build a new patio or refresh existing landscape beds. Who would you hire? Would you hire the same person to do all three jobs?
Did you know there is a difference between a landscape designer and an irrigation specialist? Or that a landscape architect is not necessarily the person who will install your newly designed landscape? There is a lot of confusion about what exactly we do, but when it comes to landscaping, it actually takes a village! There are many specialties within the green industry and we're all a necessary part of your team. From landscape designers, landscape architects, landscape installers and irrigation specialists ... to arborists and horticulturists. We all work together to create and maintain outdoor spaces you love to live in.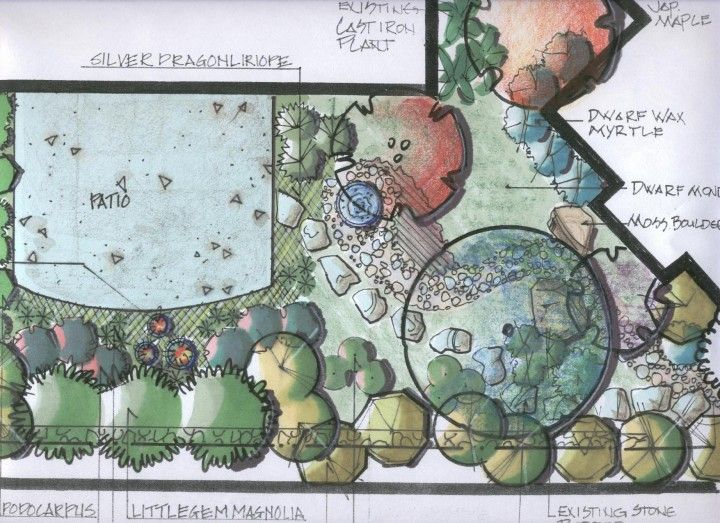 So what does a landscape architect do?
Becoming a landscape architect is a rigorous process requiring up to seven years of school and many years of continued education throughout our careers. It is a regulated profession and we take it very seriously by keeping up-to-date with all the latest technology. Through our years of training, we learn to think of your property as a whole and always work to see the bigger picture. We not only design the green spaces in your landscape but also creative hardscape elements like pathways, patios, water features and more. Managing the drainage and irrigation is also an important part of our design process.
Landscape architects work to keep up-to-date on current plant trends, sustainability knowledge and design trends most popular with our clients. Understanding how you will use the space is key to creating a successful design. We know the right questions to ask so you, the kids, the pets and everyone involved has their needs met.
Landscape architects can be retained to create a landscape design from which you and the landscape architect can work from. They can also create a more detailed "stamped" landscape plan that other builders and landscape contractors can use to physically build your new landscape. Landscape architects are also retained to create "master plans" for long-term landscape development that will be staged over time. Some landscape architecture firms also do the actual landscape and hardscape installation. These firms are referred to as "design & build" firms. Roundtree Landscaping is just such a firm with complete services.
Combining the art and science of grading, drainage, plant selection, irrigation, and landscape maintenance, we provide the most distinctive, creative, and innovative solutions to all of our landscape projects. We will work with you to create a landscape as unique as you are.
In need of a Landscape Architect? Give us a call. We'd love the opportunity to work with you!