Landscape Hack: Create Dry Creek Beds with River Rock
September 22, 2014 | By Roundtree Landscaping
Do you have an area of your landscape that lacks irrigation, receives minimal irrigation, or could even be wet and swampy? Or, perhaps you just want to cut down on the maintenance in outer reaches of your landscape. Areas that don't receive as much irrigation as the rest of your landscape, or collect too much water for your plants to thrive, should be treated as areas that could benefit from a little creative hardscaping. Dry creek beds could be your answer. Creating swales or "streams" with materials like river rock can be an easy and beautiful solution to such landscape challenges.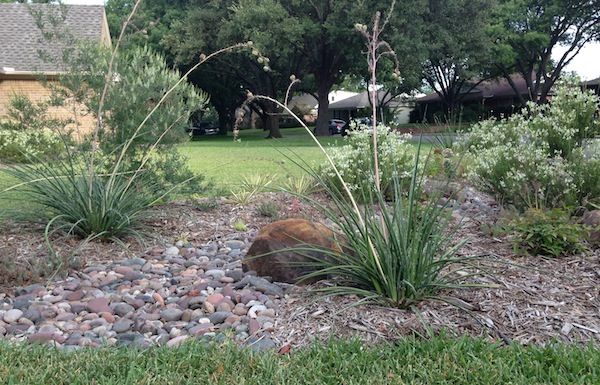 River rock swales can be incorporated into both lush and minimal landscape styles.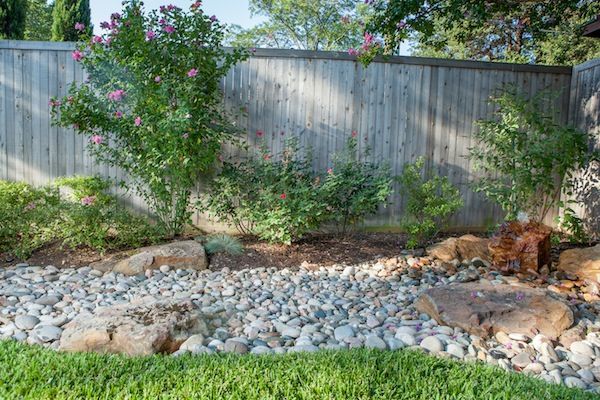 This lovely dry river rock bed also serves as a border between the turf and the garden beds.
We often use large stone boulders, river rock and other natural elements in our hardscape designs to add texture and color, but they also serve as a way to reduce runoff and help with drainage. If you have an area of your garden that slopes downward, a dry river rock bed will help to manage irrigation runoff. Combining river rock swales or borders with drought tolerant plants is also a great way to add style while still reducing your watering needs.
River rock comes in a variety of color shades from white to browns and reds, to deep gray. There are also a variety of sizes of river rock, ranging from football-sized stones to smaller walnut sized stones. River rock is typically sold by the pound, which makes it easy to buy just what you need for your given project.
You'll often see Mexican beach pebble used to create similar types of swales or dry beds. Beach pebble comes in darker shades of gray to black. This type of stone is available as either polished or unpolished Mexican beach pebble. The polished river rocks have a glossy, shiny appearance. They often work best with more modern designs. The unpolished stones have a more rustic natural appeal. If you're looking to create a contemporary feel in your landscape, Mexican beach pebble is a great option.
River rock pro design tip: Always mix and match different sizes of river rock together in your dry creek bed or swale to give a more rustic natural appearance to the design. If you're looking for a sleek contemporary look, choose beach pebble that is uniform in size and color.
Want us to integrate a dry creek bed into your landscape design? We'll always match color and type of stone to your home so it complements your existing style. Always consider your landscape as an integrated extension of your living space. Looking for some inspiration? Take a look at our Stones, Rocks & Boulders board on Pinterest or in our Stone Work portfolio.
Ready to start designing? Or maybe you need us to come look at your trouble spot? Give us a call now as our fall spots are filling fast.