Portfolio: A Perfect Patio and Pathway
June 29, 2017 | By Roundtree Landscaping
When it comes to building an outdoor space, it's not just the plants that matter. The building materials chosen to highlight the plants also play a major role in the overall aesthetic of the space. Stone, gravel, tile, and brick are all popular choices. But, which one is best for you? The full spectrum of options can be overwhelming. Whether you have a natural design or one that is more modern and clean-lined, we promise there is a stone to match.
How will you use it?
Your choice of materials can often be based on how you'll use the new hardscape areas. Walkways that simply guide one through the gardens can be accomplished with materials such as as crushed granite, gravel, floating pavestones, or even just mulch. If you plan on entertaining or dining in the outdoor space, or it will take on heavier foot or vehicle traffic, then you may need to go with more solid and sturdy hardscape materials such as rick or thick flagstone.
Here are a few of our favorite outdoor room materials we think are both versatile, cost effective, easy to maintain and look beautiful.
Brick Pavers: For durability and a classic look, you can't go wrong with brick pavers. They can be installed in custom patterns, stand up to ice and heat, and can be used in both driveways where heavy cars will park on them, or on a delicate patio tucked away in the corner of the patio. If you have a traditional home, then red brick pavers will always look timely.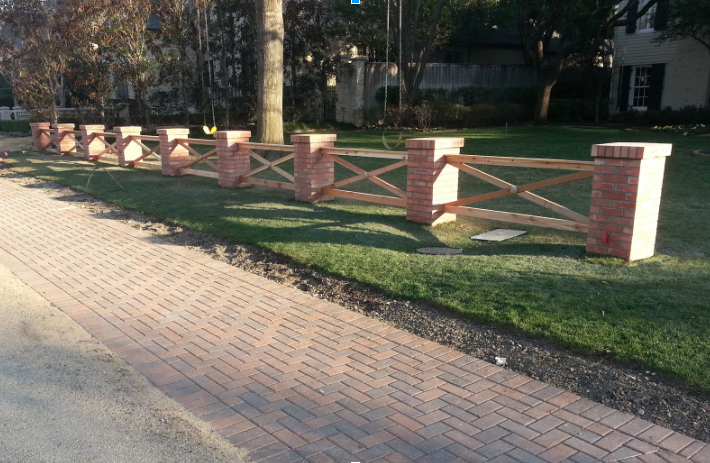 These brick pavers were used to extend parking off of the street, which used to be dirty and muddy. Now guests can park out of the street, but still on a sturdy surface. The brick takes this property's curb appeal up more than a few notches.
Natural stone: The organic shapes, textures, and colors of natural stone lend them to creating meandering pathways through planted gardens, for light foot traffic and to create visual patterns. Each stone is unique and will need to be selected prior to purchase.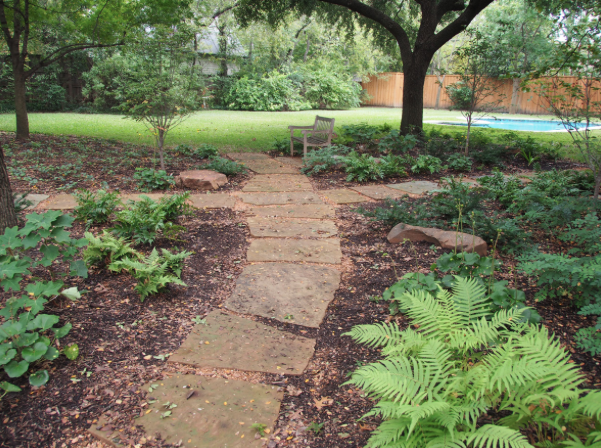 These large natural stones are sturdy, but definitely not out of place in this shady wooded garden.
Wood Decking: While concrete is common around pools, it's not your only choice. Wood decking gives pools a softer, cooler feel and can be treated so the wood doesn't rot from the moisture. Wood decking can also be placed over an existing concrete patio to cool the space and make it look more natural. Plus, it's much easier on bare feet in the heat of summer!


This wood decking around the pool creates a clean modern look that helps define separate spaces in the landscape.
Flagstone: One of the most versatile of all the outdoor floorings, flagstone is natural looking, comes in a variety of colors, and is easy to install through a dry lay (not using mortar) or you can use mortar between the stones so they stay put over an extended time. Flagstone comes in shades of red, grey or green.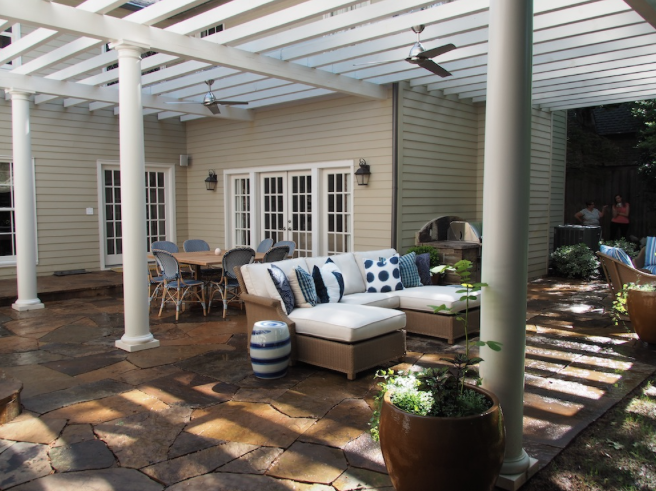 This natural flagstone patio perfectly complements the house and creates a large area perfect for regular entertaining.
We love the versatility of both gravel and crushed decomposed granite. Gravel is available in a variety of colors and sizes, and is typically larger than decomposed granite. Decomposed granite is a finer grade that can pack down tighter into areas between your larger landscape stones, packed down as a patio or pathways, or even used between larger stones. It comes in either modern grey or a natural tannish-orange color that works well with red brick homes and desert-looking landscapes.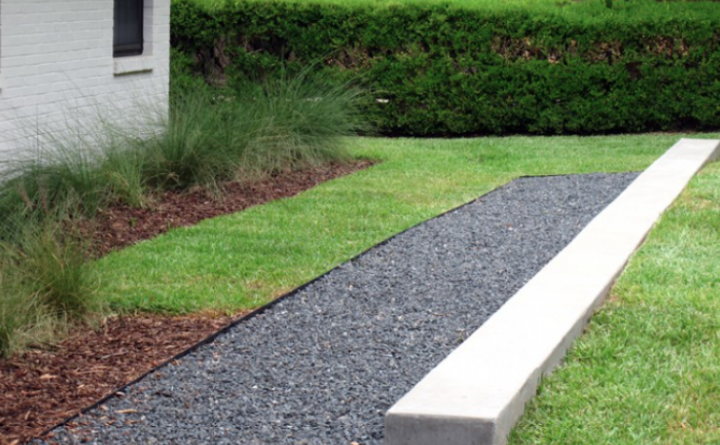 This charcoal gray gravel gravel complements the modern home and landscape, and also serves as a walking path.
Choices. Choices. Choices.
With all the hardscape materials available, choosing the right one can sometimes be an overwhelming task. A landscape architect or landscape designer can help you choose the best material for your project that will fit both your form and function needs.