How do you really feel about your patio?
April 18, 2017 | By Roundtree Landscaping
Question: Do you currently have a beautiful outdoor space where you can relax the days away, plus it meets all your other needs including entertaining family, and cooking for friends?
If your current patio doesn't match up with the dream patio in your head, then now is the perfect time to start making your dream a reality. Seem overwhelming? Here is how we simplify your needs and wants that will ultimately lead you to designing your perfect patio.
Step 1: Begin by de-cluttering your patio or deck.
Take a few minutes to inventory what you have and let go of things that aren't important. Toss out torn or dirty furniture cushions. Refresh garden containers with seasonal color and edit out the pots you no longer need. Minimize furniture to only the pieces you love then rearrange them in a new way. Try viewing the area from inside your home. Do your objects invite you, or keep you, from coming outside?
You might just need a few new cushions and fresh plants, or you may find you want a whole new start. What do you most enjoy doing outdoors? Staring into a serene koi pond? Exercising in a lap pool? Grilling for family and friends? Spend a few minutes writing down what comes to mind. Find new, trendy or unique ideas from magazines, Houzz, Pinterest and other inspirational sites.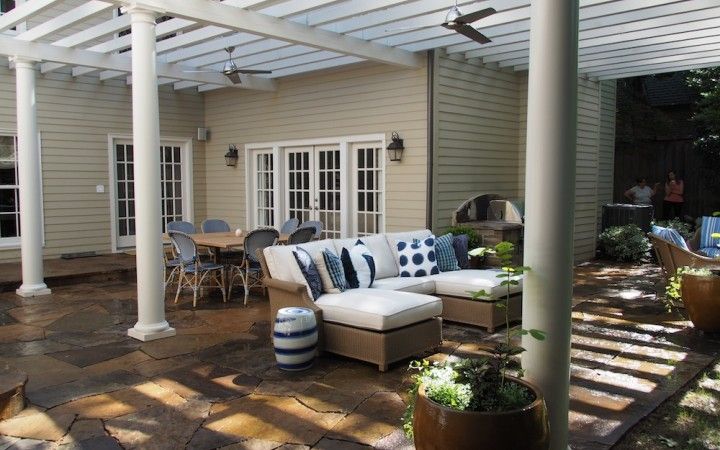 Step 2: Ask yourself a few questions.
Your outdoor area should not only be beautiful, but functional, too. Here are just a few questions to ask yourself.
Do you love to cook? Then surround your existing or new patio with an herb garden full of fresh basil and rosemary. Or, build a new outdoor kitchen complete with cooking and prep space. Or, even an outdoor kitchen would be most enjoyable to you.
Does your home have an Asian influence? Consider using evergreen plant combinations or a water feature to create the peaceful feel of a Japanese garden.
Have fond memories of a mediterranean vacation? You could reduce your lawn, add towering Italian cypress, spiky yuccas and textural grasses and palms to recreate your favorite getaway.
Are there problems that need solving? If the hot sun is beating down on your seating area plant an evergreen screen to not only shade a patio, but also reduce noise and unwanted sites. If your stone work is falling apart or just not attractive, it may be time to re-stone your patio area or create a new configuration that makes better use of your space.
Step 3: DIY or….
Hire a qualified Landscape Architect or landscape designer. While the dreams of building your own space might seem appealing and satisfying, there are elements a pro might think of that makes your design even better..