Can You Save Water in a Beautiful Landscape? Yes: Here's Our Checklist!
August 3, 2014 | By Roundtree Landscaping
The best planting season of the year is just around the corner. Fall is our favorite time of year to design and install beautiful and waterwise landscapes in Dallas. We know that it can be overwhelming at first when you're trying to figure out where to start with a new landscape or renovation. When you want to maximize both the beauty of your landscape and the water savings, it's usually best to bring in a professional designer to help do the job right. However, we'd still love to share some of our secrets with you DIYers for saving water in a beautiful landscape!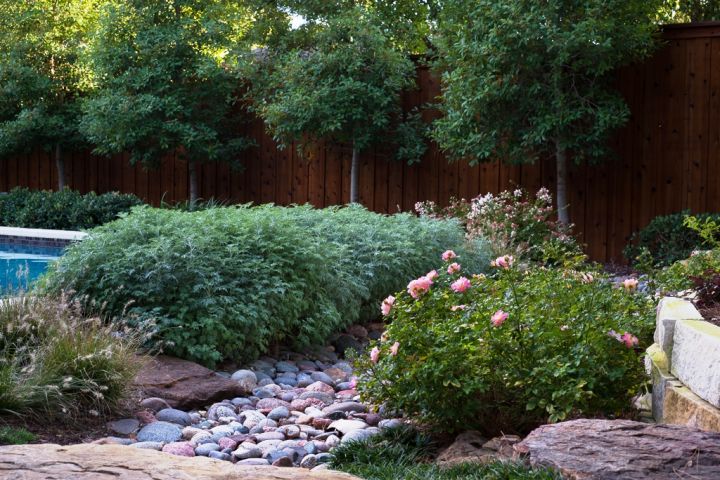 A mixture of waterwise plants and hardscaping makes for an easy-to-maintain landscape!
Here are a few important checklist questions to ask when planning your landscape:
What is the size of your space?
When choosing plants and hardscape features, don't overdo it come planting time. Overcrowding the space with trees or shrubs that will outgrow it will only cause maintenance and water issues down the road. We often see landscapes crammed with too many plants at the beginning of the project because homeowners want to see the space filled right away. Unfortunately, within just a couple of years the spaces becomes too crowded, leaving many plants leggy, shaded out by neighboring plants or diseased due to poor air circulation. Plants then have to be removed leaving the landscape mis-shapen. Planting more than you need also means you'll be wasting a lot of water. A little patience goes a long way: Plant what you need to fil the space at the mature plant size and give the landscape a year or two to fill in naturally. The resulting look will be much more pleasing and you won't water more than you really need to.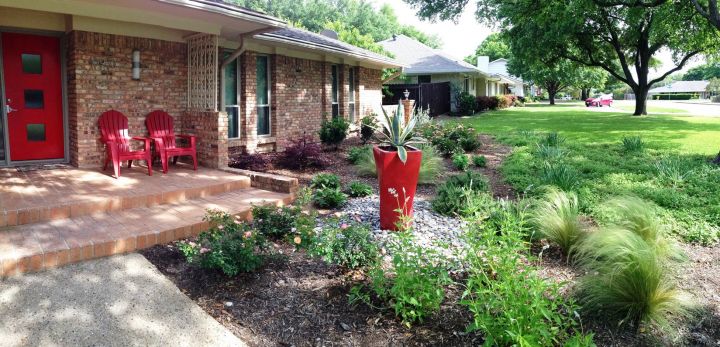 Choose a theme.
What's your style? Do you prefer the clean lines of a mid-century modern landscape or the lushness of a Mediterranean style? Start a board on Pinterest or an Idea Book on Houzz to collect inspiration for the landscape you'll love to live in! We often review these idea books with our customers when we're getting started on a project for them. It can help both you and us hone in on just the look you want to create. The landscape can be design to contrast or complement your home's architecture.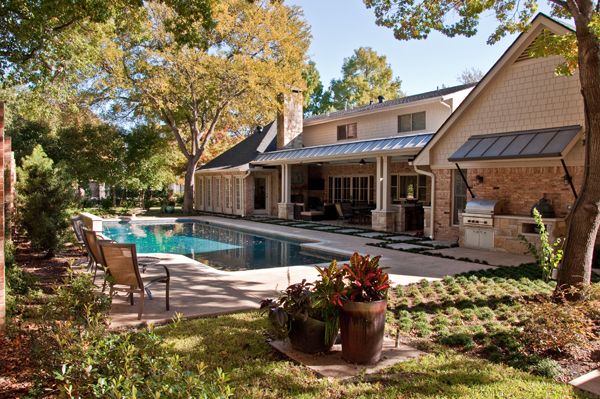 Photo by Living Magazine for RLI
Sun or shade?
The question everyone is always asking –sun or shade? Or both? Depending on your home's exposure, your landscape might be shaded in the morning and blazing hot in the afternoon. Or, you could have sun until early afternoon before the shade takes over. Your available sunlight, in addition to space size and personal preference, will dictate which plants are the best fit: Right Plant, Right Place. We always suggest spending a day watching the sun in your landscape and recording what times of day you have sun and shade. You might want to do this throughout the year as the sun shifts with the seasons. The best way to create a good looking landscape that doesn't waste water is to choose plants that will best suit the environment.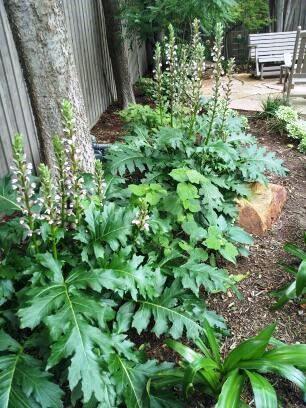 Bear's Breech, Acanthus mollis, is a beautiful, tough and waterwise perennial for shady spots.
Grass or gardens?
We've noticed a lot of clients opting for less lawn and more landscape beds and hardscape. Perennials, annuals and shrubs will generally use less water than a St. Augustine or Bermuda lawn. Do you have pets or kids? Then we recommend designing a grassy area where they can play and surrounding it with lush gardens filled with attractive low-maintenance plants. Or, choose turf varieties that use less water such as Zoysia or Buffalo. Don't want to deal with watering a lawn at all? Perhaps you simply have too much shade for a lawn? There's no shame in going faux! There are certain situations where artificial turf is really the best option - both for your situation and your water bill!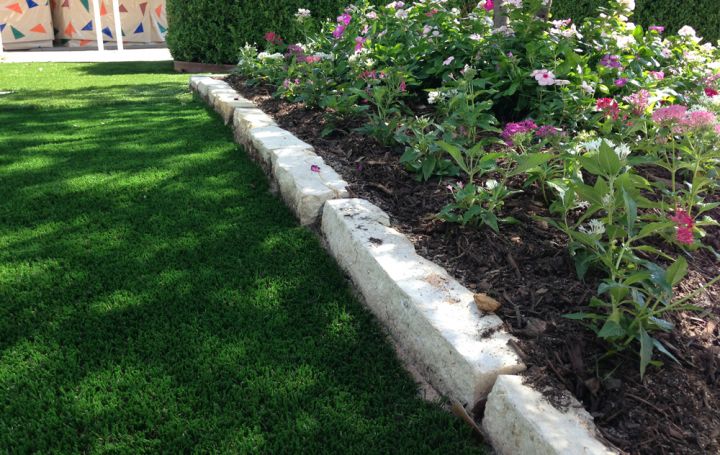 Artificial turf can be a great solution for shaded areas or homes with large dogs.
Are you ready to start designing your beautiful and waterwise landscape? Fall is the best time of year to establish a new landscape. Give us a call this month to schedule a consult and be on your way to relaxing in your lush, outdoor space!